The Return
Edit
Bl*ke and L*ura return to Roblox in this daring sequel.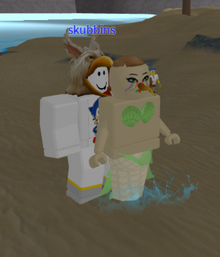 Fans and foes alike are thrown for a loop when a new character makes an appearance in replacement of Uniqua:
Ibugbug
, the man behind the Uniqua persona.
Similar to the skubbins/uniqua relationship, skubby can be seen referring to Ibugbug as "daddy" and "father". They often share meals together and skubby will frequently reside by the piano to listen to his father's sweet music.